Now that the cold, in some areas freezing, weather has forced most of us indoors more, we would like to chat about how to reduce toxins in your home.  With the new year approaching many of us are look for ways to be healthier. Here are some great considerations that don't involve gym memberships or diets.
Toxins in our home even ones you don't know are there.
When we think toxins/chemicals most people don't stop to consider home furnishings. Many household items are made up of materials that can give off volatile organic compounds (VOCs) or chemical vapors such as formaldehyde, vinyl acetate, phthalates, and benzene to name a few.  Household items give off toxic fumes which can impact your home's air quality and can be hazardous to your health.  Symptoms can range from headaches, fatigue, eye, nose and throat irritations, nausea, loss of coordination and memory impairment.  Many VOCs are classified as carcinogens and over years can cause sever health issues.  Some compounds have strong odors that are very noticeable others are odorless.  They could be making you sick.  Materials like woods, fabrics (clothing, bedding, and upholstery), glues, finishes, glosses, flooring, and items containing a flame retardant are just a few more examples of toxins in your home.  In a world where it seems very hard to find products that do not have toxins in them, we want to go over a few things you can do to help the air quality in your space. 
Eco-friendly choices.
The first thing we can do is look for products that are eco-friendly. Eco-friendly products do no harm to the environment.  This means products that are natural or certified organic like cotton, hemp, bamboo, linen, wool or down over products that are synthetic or polyurethane and avoid flame-retardants.  Look for solid wood products over engineered wood that has been pieced together.  When redecorating walls look for paint that is "low VOC" and wallpaper that contains low to no VOCs and a safe adhesive.  Whenever purchasing new products allow time for them to set outside, if feasible, to air out and release as many fumes as possible before bringing them into your space.  Look up "sunning off gassing" to help with VOCs and thank us later but remember to always watch products you set in the sun we don't want to discolor!  Some items such as flooring and paints are not possible to air outside. The next best option is to ensure that you have a well-ventilated space to release as many fumes as possible.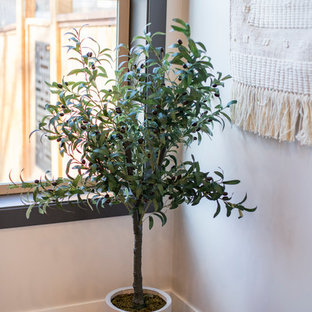 Plants, cleaning, and air purifiers.
Next to improve our indoor air quality is plants, cleaning products, and air purifiers!  Now many of us just want to go out and purchase air fresheners and chemical cleaning products that will make a space smell great in minutes. Wrong, these products are filled with synthetics and can often cause more harm.  Clean and freshen spaces with natural products like lemon, vinegar, baking soda, olive oil, and essential oils.  Using a vacuum with a HEPA filter is another easy way to help promote indoor air quality.  We have put together shoppable links of plants, vacuums, and air purifiers on our LTKit.  There is lots of debate on what plants are the best for air purification but we know plants contribute to better air quality, after NASA conducted a clean air study in 1989.  "NASA-approved plants" have been trending ever since, especially when it comes to people looking to help improve air quality. Our top plant picks are low maintenance plants: snake plant, spider plant, rubber plant, ferns, money plant and aloe (bonus aloe can be used for burn care as well). Palms such as the areca palm and the corn plant "Dracaena" are also great choices but do need larger containers/space and a little more tlc. Flowering plants such as the peace lily, garden mum, and Gerber daisy are also great but do require more care. Studies have shown us that the root/soil quality directly help plants thrive and grow, thus, the better it is for purification. So, buy the larger potters and let those plants grow/breath.  Also be aware if you have animals in the house many plants are toxic to pets so always do your research.  Another great option if you have pets or no green thumb are air purifiers with a HEPA filter. They remove smoke, dust, and other particles from a space and greatly help improve air quality from dust and dander.  To remove toxins like formaldehyde purchase a chemical VOC air purifier. These purifiers are specifically designed to remove the chemical vapors.  Do your research and find what is best for you and your space.  We have linked several top rated air purifiers to our shopping link to help start your search as we know this can be very overwhelming. Always consider the square footage of a space when purchasing your air purifier.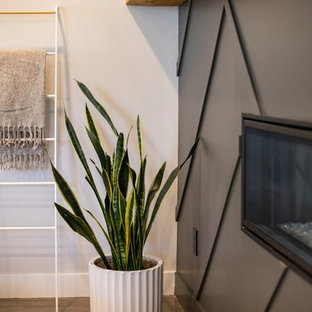 We are not suggesting going out and buying all new household items or a living wall of plants, we just want you to be a conscious consumer when purchasing in the future and how to approach promoting better air quality in a space.  Use this knowledge to make better choices. Consult a designer who can help make fashionable as well as functional choices if you are considering a remodel.  Yes, safer products may cost a bit more at times, but in our opinion, it is always worth it to help your overall health and wellbeing.  The only way to truly know the air quality in your home is to have an indoor air quality test performed. This is always a choice if you want to know exactly what chemicals you are dealing with in your space.
  As many of us look to the future these ideas are some great ways to renovate your spaces or to consider when moving into a new property. Stay tuned for more tips on how to be/stay healthier around your homes in the new year.  If you are interested in a design consultation for renovating a new or existing space contact us. 
Follow us on social media:
IG: @homespunstaginganddesign
Liketoknowit: LTKit